The ensemble

The Waimea Consort is an a cappella ensemble performing medieval, renaissance, baroque, romantic, and 20th century music. Since its inception in the fall of 1998, the group of amateur singers focuses on bringing rarely sung vocal music to the Island of Hawai'i.

The Waimea Consort, a 501(c)3 organization, puts on at least two different programs every year. The concerts are performed twice, once in Waimea, and again elsewhere on the island, giving the audience two venues from which to choose. The group is active in community events, from caroling at the Waimea Farmers Market to singing at fundraisers on the island.
Please contact the
Consort
for information about the ensemble, or to inquire about performances, joining the group, or proposing venues.
---
A new chapter in the life of the Waimea Consort
Since 1999, the history of the Waimea Consort has been tightly linked to its founder and director, Christian Veillet.
After a last concert at the end of January 2013, Christian left for Tucson and the Large Binocular Telescope. Neither Christian nor the Consort singers wanted the ensemble to become silent after his departure... It was agreed that the Waimea Consort would open a second chapter in its life and continue to bring a cappella vocal music to Waimea and the Big Island.

With a new leadership shared by some of the singers, things are of course different. However, the joy of singing together and bringing nice music to the loyal audience which has followed the Consort for fourteen years, has been kept alive!

www.waimeaconsort.org now points to the new website of Consort's new chapter!
---
---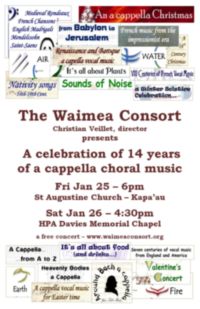 Friday, 25 January 2013 - 6pm - St Augustine Church, Kapa'au - map
Saturday, 26 January 2013 - 4:30pm - Davies memorial Chapel , HPA Campus, Waimea - map

This concert will give the Consort the opportunity to revisit some of the pieces which were the highlights of its young years as it is entering its teens. From Monteverdi to Milhaud, Dufay to Duruflé, Tallis to Tavener... the program will explore the rich a cappela repertoire which has been one of the trademarks of the ensemble over the years.

While this concert will be more an au-revoir than an adieu, it will definitely be an evening of celebration of a cappella vocal music, which current and past singers of the Consort will be happy to share with you!
Concert flier (pdf)
---